Counterfeiting of goods poses a serious threat to the European single market - about 6.8% of imports to the EU are either counterfeit or substandard goods. Organised criminal groups are often behind intellectual property crime, deriving financial gain from illegal activities and channelling those illicit funds to other crime areas.
Fighting intellectual property crime is key to sustaining jobs and growth in the European economy, and to safeguarding consumers against dangerous and substandard products.
The IPC3, located at Europol and funded by the European Union Intellectual Property Office (EUIPO), is central to the EU's response to this crime area.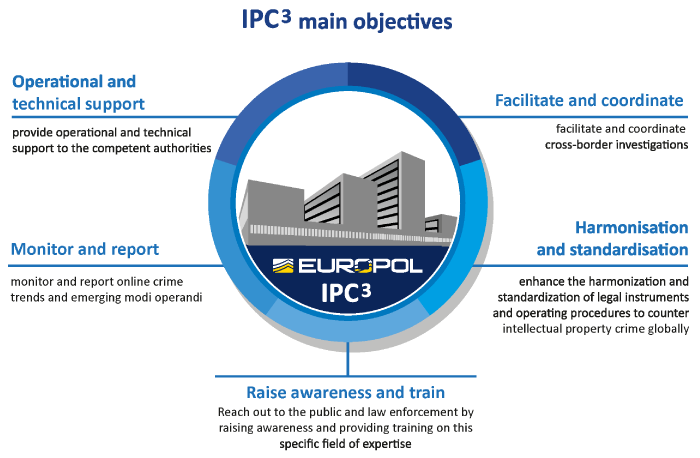 IPC3 Operational Support
The IPC3 provides operational and technical support to law-enforcement agencies and other partners in the EU and beyond, by:
facilitating and coordinating cross-border investigations;
monitoring and reporting online crime trends and emerging modi operandi;
raising public awareness of this crime;
providing training to law enforcement in how to combat it.
The IPC3 soon produced significant results. At the end of its first year of operation, it was supporting more than 50 high-priority cases of intellectual property infringement.
Europol has used it to help take down websites used to sell counterfeit merchandise, to target pirated TV decoders, and to shut down illegal operations using the bitcoin digital currency.