Intellectual property crime is a significant problem that hits the EU particularly hard, with fake goods accounting for about 5 % of imports. The IPC3 is central to the EU's response.
Fighting intellectual property crime is key to sustaining jobs and growth in the European economy, and to safeguarding consumers against dangerous and substandard products.
This crime takes many forms:
The international trade in counterfeit products takes a huge bite out of people's incomes around the world: it represents up to 2.5 % of world trade, or as much as USD 412.5 billion, according to the latest available data, from 2013.
There are a growing number of online marketplaces that offer a wide range of counterfeit goods, from counterfeit medicines and medical devices to fake automotive parts and even airbags, which put drivers and their passengers at serious risk of injury or death. Fake food and beverages also pose a danger. The dangers to consumers are considerable.
Online crimes also include the dissemination of malware — malicious software designed to infect computers — as well as phishing and fraud.
Infringements of designs and sales of fake designs, such as in the sectors of applied arts, clothing, furniture, toys, are damaging for businesses and consumers and undermine trust in the market. (Industries focused around design contribute over 12% of the employment in the EU, 13% of the GDP and pay wages that are 31% higher than other industries.)
The criminal networks involved in these offences are also linked to other serious crimes, such as human trafficking, money laundering and cybercrime.
A robust and multi-pronged response is therefore called for—and that is why Europol and the European Union Intellectual Property Office (EUIPO) have launched the Intellectual Property Crime Coordinated Coalition (IPC3).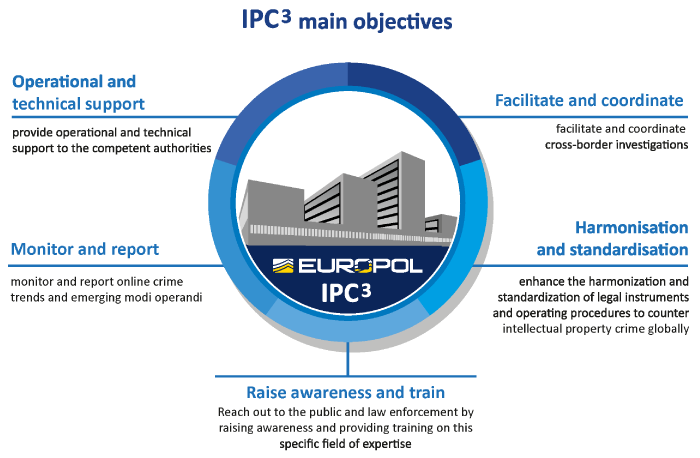 IPC3 Operational Support
The IPC3 provides operational and technical support to law-enforcement agencies and other partners in the EU and beyond, by:
facilitating and coordinating cross-border investigations;
monitoring and reporting online crime trends and emerging modi operandi;
enhancing the harmonisation and standardisation of legal instruments and operating procedures to counter intellectual property crime globally;
raising public awareness of this crime;
providing training to law enforcement in how to combat it.
The IPC3 has been set up within the current organisational structure of Europol, where it is part of the Operations Department. It builds on the strategic agreement between Europol and EUIPO signed in 2013, and is already operating with a EUR 500,000 annual grant provided by EUIPO.