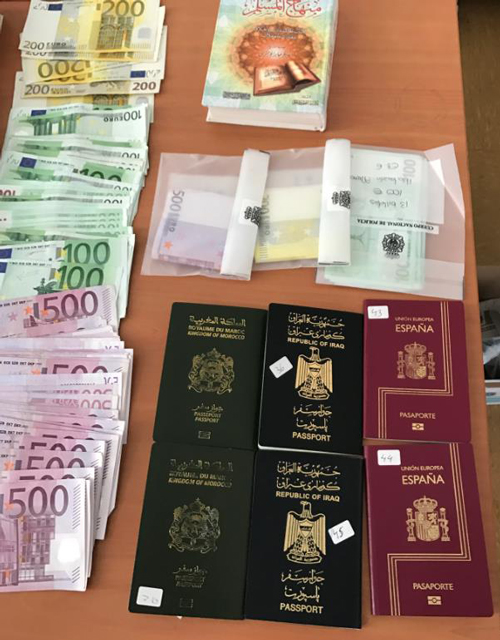 The criminal gang is accused of facilitating the illegal entry of migrants - mainly Syrians, Afghans and Iraqis - to and within Europe and the Schengen area, through the production and supply of false documents. It is estimated that the irregular migrants paid EUR 2 000 – 3 000 for each false document. Investigations revealed that the gang had been criminally operating for 10 years.
With the support of Europol and Eurojust, the Spanish National Police, in cooperation with the Hellenic Police and the Belgian Federal Police, have dismantled an organised crime group accused of facilitating the illegal entry of migrants to and within Europe and the Schengen area, as well as producing and facilitating false travel documents for use by irregular migrants.
Eight members of the criminal organisation were arrested, seven in Spain -including the leader of the gang - and one in Greece, as a result of a coordinated law enforcement action day carried out simultaneously in Spain, Greece and Belgium on 28 March 2017. In total, eight houses were searched - five in Madrid (Spain), two in Athens (Greece) and one in Brussels (Belgium). This resulted in the seizure of EUR 100 000 in cash, numerous documents, money transfer receipts, data storage devices and mobile phones.
Investigation "Yoghi" began in 2015, when Spanish investigators arrested a suspect in Spain accused of couriering false documents between Madrid and Athens. Investigations revealed that the arrestee was a member of an organised crime group involved in migrant smuggling with links in various EU countries. The main target and leader of the criminal network, of Syrian nationality, was in charge of supervising the transportation of irregular migrants within different EU countries and towards their final destinations, mainly in Northern Europe. He alternated his residence between Spain and Belgium to avoid detection by the police. His brother, who operated from Greece, was responsible for producing and distributing the forged travel documents for use by the irregular migrants. For this, the network possessed a document forgery factory in Greece.
Europol's European Migrant Smuggling Centre (EMSC) supported the investigation with information exchange and analysis. On the action day, two Europol experts were deployed to Spain and Greece equipped with mobile offices to support the operations on the spot. This allowed for real-time information exchange and cross-checks of the data gathered against Europol's databases, as well as forensic support.
Document fraud, a key criminal activity linked to the migration crisis.
Europol's EU Serious and Organised Crime Threat Assessment 2017 (SOCTA) identified document fraud as a key criminal activity linked to the migration crisis.
Migrant smuggling networks are increasingly offering tailor-made facilitation services including the provision of high-quality fraudulent travel and identity documents. Fraudulent documents allow irregular migrants to enter and move within the EU as well as to change from irregular to legalised residence status under false pretences or by using fake identities.
The abuse of genuine passports by look-alikes continues to be the main modus operandi used by document fraudsters. ID cards are the most commonly detected document used as part of document fraud.
Further details on operation ''Yogui''available on Policia's press release.