Thank you for taking part in the biggest international law enforcement photo competition! Many talented photographers participated in the 11th annual Europol photo competition, sharing their special vision of law enforcement all over the world. 
We received diverse entries picturing the core of the challenging but also exiting work of law enforcement. Police officers, rescue teams, customs and border guards featured moments of their working life: from difficult moments, during police operations and training exercises, to touching moments during everyday community work. The images show two sides of the coin: dramatic and critical, as well as human and warm. 
This year the three categories were: cybercrime, diversity and inclusion, and making Europe safer.
The competition is open to law enforcement photographers from the European Union and from countries with Europol cooperation agreements.
The images received will be published in Europol's flagship reports and publications as well as online to illustrate the tireless and diverse work of law enforcement. Through its powerful and simple format, Europol's photo competition aims to raise awareness of the work carried out by the law enforcement network across Europe.
Europol is pleased to announce the winners of the 2019 law enforcement photo competition: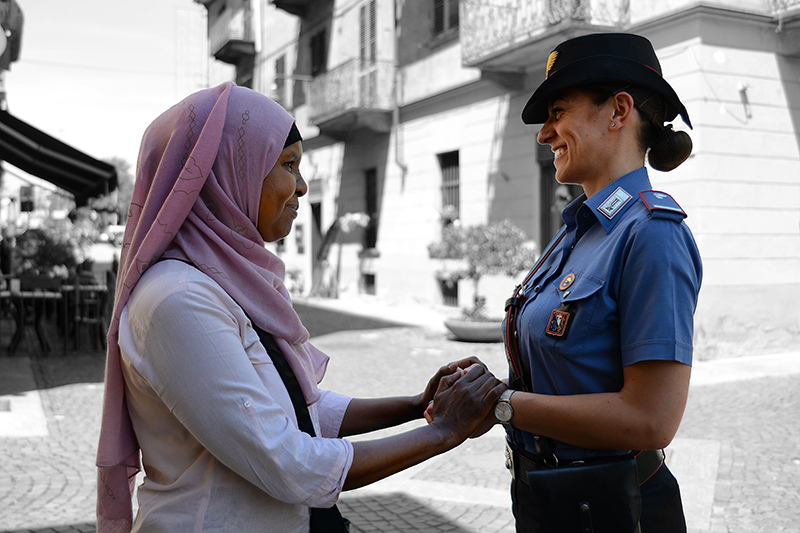 Giovanni D' Amico from Italy for the diversity and inclusion category. This warm shot taken in Turin, Italy, shows how inclusion is taking the time to get to know each other.
 
David Mendiboure from France for the category making Europe safer. This dog from the French National Police is trained to detect explosives. He is pictured here with his handler securing a site. 
 
Peter Monteny from the Netherlands for the category making Europe safer. In this picture, Dutch police officers are keeping an eye on the crowd at Utrecht Central Station. Making people, including children, feel safe.
The three winners win a trip for two to the Netherlands, including a visit to Europol. Their pictures will feature in our 2020 calendar and other Europol publications.
Didn't make it this year? There will be more chances for you to win soon as next year's edition will be open for entries from May to July 2020. Don't miss the chance to take part, keep an eye on our website and social media!