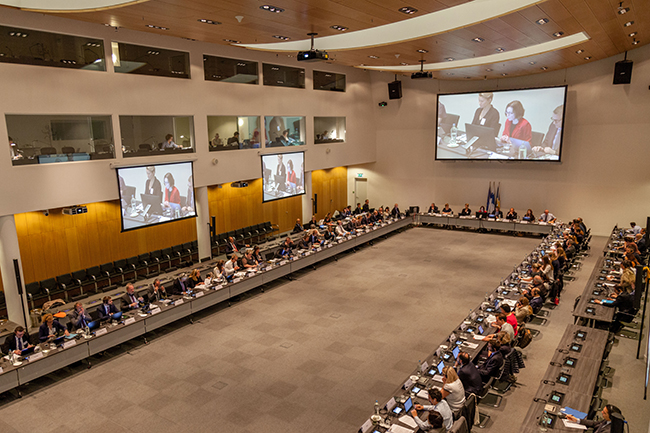 The informal meeting of the Council's Standing Committee on Operational Cooperation on Internal Security (COSI) at Europol today marks the start of internal security-related activities of Finland's Presidency of the Council of the EU. This is the first time an informal COSI meeting has been co-hosted by an EU agency, which also honours the 20th anniversary of Europol. The aim of the meeting is to prepare the discussions of EU Ministers of Interior at their informal meeting in Helsinki on 18 July 2019.
Overall, 90 participants from all Member States, Iceland, Norway, Switzerland, the European Commission, EEAS, EU CTC, Council Secretariat and EU agencies (Eurojust, CEPOL, EMCDDA, eu-LISA, Frontex) are in attendance.
The delegations will discuss the following topics:
the future direction of internal security in the EU;
hybrid threats and internal security;
20 years of Europol – what is next?
The chair of COSI, Ms Hannele Taavila, opened the meeting stating: "At the JHA Council in June Ministers had a first exchange of views on certain aspects with horizontal implications for orienting future developments in the area of internal security and EU law enforcement in particular. In the next six months the Finnish Presidency will take this debate further by focusing on various horizontal key themes. We need a comprehensive, whole-of-society and integrated approach to security to effectively counter any threats to our security. We also need common solutions to technological development, so that our authorities are better equipped to tackle the challenges and to seize the opportunities they offer. Our objective is by December to consolidate the views of the Council on the future direction of internal security on the basis of these discussions."
Europol's Executive Director Catherine De Bolle used her welcome speech to refer to the threats posed by new technologies. She said: "Technological developments and the way they transform the criminal landscape present new and emerging challenges for law enforcement. This includes developments such as advancements in Artificial Intelligence, quantum computing, 5G as well as alternative decentralised networks and cryptocurrencies, 3D printing and biotech. It is clear that in an era of limited resources, cooperation, resource-sharing and maximising efficiencies are key. I am committed to further establish Europol's role as a driver for innovation in law enforcement."