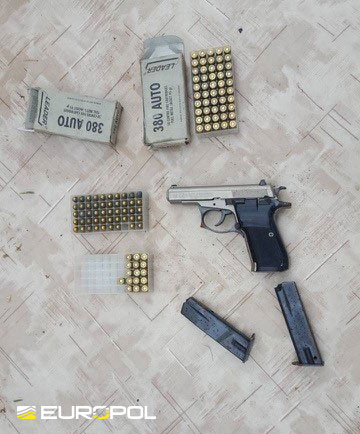 Today the Lithuanian Criminal Police Bureau and the Organized Crime and Corruption Investigation Department of the Prosecutor General's Office led one of the largest covert police operations the country has seen in recent years, with the support of Europol and different Lithuanian authorities.
The investigation began two years ago and culminated with the arrest of 19 suspects today, including leaders and core members. The poly-criminal network was based in Kaunas County, Lithuania, and operated on an international level. According to the annual Lithuanian national serious and organised crime threat assessment conducted by the Lithuanian Police, the network was seen as one of the most dangerous groups in Lithuania. Three hundred police officers participated in the huge operation.
More than 100 houses searched
Police officers carried out over 100 house searches during the action day, which resulted in seizing a large number of automatic and semi-automatic firearms, ammunition and explosive substances.
Europol's Deputy Executive Director Wil van Gemert commented on the operation, "Europol supported a Lithuanian-led investigation against high value targets in an organised crime group and deployed one expert on the ground equipped with a mobile and analysis office. This allowed for real-time information exchange with foreign partners, efficient data analysis and cross-checks against Europol's databases of data gathered during the course of the operation."