The gang smuggled the migrants, mainly Albanian nationals and refugees from Afghanistan, Iraq, Pakistan and Syria, on regular ferries. Seven members of the network have been arrested.
Europol has supported the Spanish Guardia Civil in dismantling a criminal group believed to have been smuggling migrants – mainly Albanian citizens – from Spain to the UK, as well as refugees from Afghanistan, Iraq, Pakistan and Syria. The gang used regular ferries from the northern Spanish ports of Santander and Santurtzi to carry out their criminal activities. Their modus operandi was to smuggle the migrants through restricted areas at the ports and hiding them in trailers, containers, caravans and lorries waiting to board the ferries in restricted parking bays. The gang also helped transport the migrants to the Spanish towns of Cantabria and Biscay from other countries and temporarily housing them there.
The investigation, known as investigation Hegira, began when the Spanish authorities detected a growing number of Albanian citizens had been intercepted trying to access the port of Santurtzi. Further investigations revealed there was an organised crime group operating in Cantabria and Biscay.
House searches lead to arrests
On an action day on 19 March in Spain, 7 members of the network were arrested – Iraqi, Albanian and Spanish nationals. The Spanish Guardia Civil raided 3 houses in Bilbao, Portugalete and Santander, 2 of which were used as safe houses where the authorities seized numerous IT and mobile devices, bank cards and ID documents and passports from different countries. The investigation also saw the collaboration of the Belgian police, who assisted with the house searches in Spain.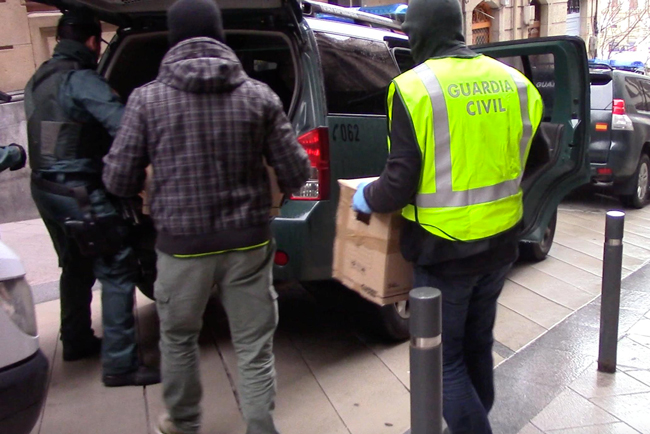 Europol's European Migrant Smuggling Centre (EMSC) supported the investigation by providing analytical and operational support and hosting an initial operational meeting at its headquarters in The Hague. During the action days, Europol provided on-the-spot support by deploying an analyst to Bilbao equipped with a mobile office and a Universal Forensic Extraction Device. This allowed for real-time cross-checks against Europol's databases as well as data extraction from the seized devices for further analysis.
Investigations are still ongoing
Investigation Hegira was carried out within the framework of the Joint Operational Team (JOT) Dunqett, under the EMPACT priority on the facilitation of illegal immigration. JOT Dunqett's aim is to identify, tackle and dismantle organised crime groups involved in secondary movements of migrants entering Europe via the Western Mediterranean Route.