Counterfeiters exploit them to sell and advertise their products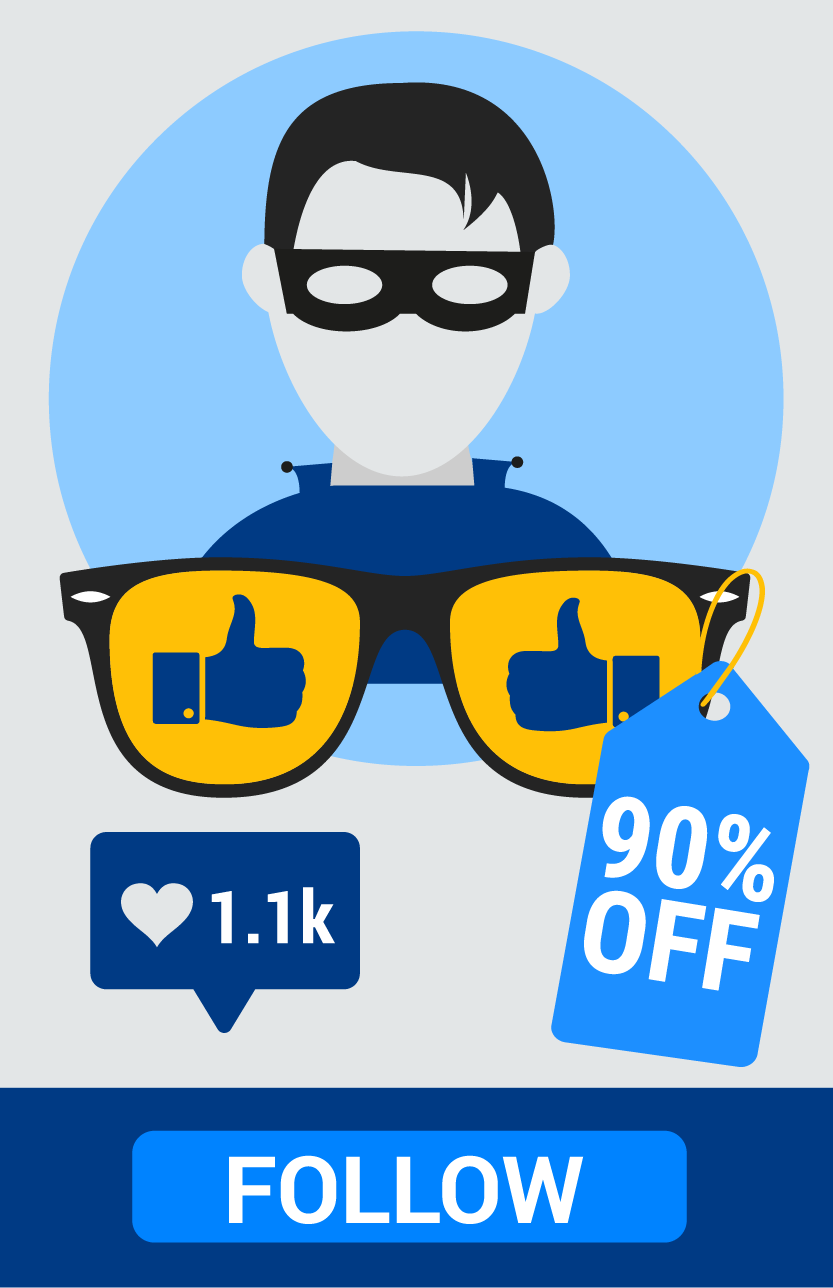 Fake social media accounts
On social media, counterfeiters can:
Register fake profiles and pages containing the original brand name.
Offer for sale counterfeit products through their accounts, pages or in groups.
Advertise their fake products through social media ads, luring you to their illicit websites with flash sales for items that turn out to be fakes.
Tag their fake products with luxury brand names so that they appear in your searches.
Detecting fake social media accounts can be tricky, even for law enforcement authorities. Check some basic F***(ake) Up signs!
If there are many updates and content published but little conversations and engaging with members.
If you receive a request to wire money or reveal sensitive information. A tactic used by scammers.
If it pushes spam, shares the same link repeatedly in a short period of time or provides misleading information about the destination of a link.
If it doesn't have the verification indicator as a high-profile user. Consult the social media platform's FAQs or user guidelines to familiarize yourself with their indicators.
Fake Mobile Apps
With apps becoming more popular as a way to shop, be aware of fake apps exploited by counterfeiters!
Just because an app is in the Official App Store it doesn't mean that it is a legitimate app!
Fake apps might use original trademarks
Fake apps may redirect customers to illegitimate websites with the purpose of stealing personal and financial information.
Fake apps will pose as security updates, and clicking on the links may also lead to your information being stolen.
If you receive an unexpected SMS, a strange alert or notification, or unusual requests from what may seem to be your bank or other familiar brand, beware: criminals may be trying to rip you off.
Be cautious of links you receive in email and text messages that might trick you into installing apps from third party or unknown sources.
Before downloading an app… Check the F***(ake) Up signs!
Be suspicious of apps that promise very high shopping discounts.
Check the publisher of the app. Criminals can use similar names; so be careful.
Check other user's reviews and ratings. A fake app will likely have zero reviews while a real app will likely have thousands.
Check the publish date. A fake app will have a recent publish date, while a real one will have an "updated on" date.
Check how many times the app has been downloaded.
Look for spelling mistakes in the title or description. Take extra caution if it looks like the language isn't the developers' first language.
Read the app's permissions. Check which types of data the app can access, and if it might share your information with external parties. Does it need all these permissions? If not, don't download it.
When in doubt, visit the official website of the brand or seller and look for the icon or button that reads "Get our app".

Fake game apps and pirated video games
Be aware about threats associated with fake (pirated) video game apps and unauthorised copying or distribution of copyright protected software. Instead of having fun, you risk infecting your device with computer viruses, since most of the cracks are poorly disguised malware.
IP infringers exploit opportunities both in terms of counterfeiting physical gaming products and illegally offering content on-line.
Counterfeit consoles can pose a serious risk to your health and safety, fake game apps and pirated video games can harm your computers and mobile devices by installing embedded malicious viruses.